Joined: June 2012
Watching The Shining at the theater tonight in preparation for Doctor Sleep
One of my favorite movies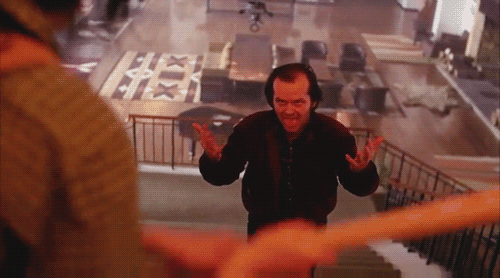 ---
Holy shit. I can't believe they made a Stephen King movie better than the book. That's only happened like once (The Shawshank Redemption).
Mike Flanagan really performed magic in the third act (where the book fell apart). He took the strongest parts of the book, and brought them to life in a really enthralling way, and tied up all of the goofy loose ends and characters that didn't work in the novel. It wasn't a horror per se, but there were some creepy moments and I think they packed a lot in without it feeling long. Great pacing. My only complaint is the same complaint I had with the book - the villains are weak AF. Rose the Hat and her posses are such a joke. Other than Rose and the Pusher, what powers did they have? But besides that, I really enjoyed Danny's character development, especially
Ewan McGregor and Kyliegh Curran really did a great job of playing off of each other and the Carl Lumbly did a great Dick Halloran. You would have thought he was related to Scatman.
Maybe I enjoyed this so much because my expectations were so low, but this was a pleasant surprise. And I honestly think it's very different than any other movie we've seen about telekinetic ability. Great characters (other than the flat one note villains), cool plot, and nice directing. The parallel callbacks to the Shining, like the zoom into the lake with the score were really well done.
9 out of 10 for me.
---
Joined: January 2016
Location: Norway
Act 1 and 2 is close to a masterpiece for me. Absolutely brilliant, and the first movie in years to give me serious goosebumps multiple times.

The end wasn't as great but I stilled walked out of the theater feeling satisfied. McGregor and Ferguson are both great in this but Kyliegh Curran steals the entire show alongside the cinematographer. The editing is also really solid.

Never read the books btw
---
Yeah, heard good things about this, too bad it's tanking at the box office. Gonna get beat by the generic looking "Midway". Maybe don't release a horror movie right after Halloween.
---
Joined: August 2009
I really enjoyed this a lot. Such a great slow burn and fantastic performances from Ferguson, McGregor, and Curran.

The recreations of the famous scenes from The Shining were really well done and respectful too.

I hate that this is tanking at the box office because it really is such a beautiful film.
---
Too bad more people aren't seeing this, because it is a lot better than most of the crappy horror movies that get released. Director does a good job balancing being an adaptation of the King's book (taking the best elements from it) and also being a sequel to Kubrick's Shining.
---
Joined: January 2015
Location: Poland
Contact:
---
Joined: May 2010
Location: Jackson County
This was very good with some minor problems, one being its length.
---
Joined: June 2011
Location: Slovakia
Contact:
The second trailer made it look quite bad and I was really worried, but what I got in the theater was a great cinematic experience and surprise of the year.

Respected the original, but wanted to do its own thing, excellent casting, Ferguson surprised as well as Curran, McGregor was good as always, fantastic score, good pacing and even with a longer runtime I wasnt bored a single minute.

My only issue was that with the first two very strong acts the ending didnt fully deliver. At least for me, but hell yes, this film was excellent!
---
Joined: May 2014
Location: [insert non-spoilery location here, that wasn't a spoiler to begin with]
Y'all this is good! Good! Go see it! Fuck me it's so sad it's not doing well at the B.O.

Solid
B+
mayyyybe and
A-
. I'll have to let it sit!
---