---
---
Joined: June 2011
Put that in spoiler tags yo. Even the thumbnail is kind of a spoiler
---
holy shit i just realized i'm seeing this next week


don't anticipate my reaction i'll prob have nothing meaningful to say
---
Joined: August 2010
Contact:
---
Joined: May 2010
Location: Arrakis
mchekhov 2: Chek Harder

wrote:

↑

December 3rd, 2018, 4:04 pm

everyone's experience is valid doesn't matter how colourful your language is
This. Report back asap and enjoy.
---
---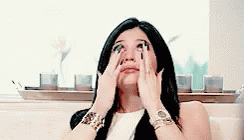 we can sometimes be so wholesome guys, it's beautiful
---
Ruth, our lives are not complete if you don't share your opinion on things more often. For real, let us know what you think about this.
they really did fantastic work. Loved the fact that so much was done practically, with make-up and all. Maybe there's an Oscar (nomination) on the way for that.
Last edited by
Nomis
on December 3rd, 2018, 6:28 pm, edited 1 time in total.
---
Joined: January 2016
Location: Norway
What the fuck did I just watch?

I really regret going to see this at 10PM, after having a few beers with some friends beforehand. Because my brain was not expecting that.

I was fully immersed in the story up until the big event at the end. Then it was like I just snapped out of it or some shit. I didn't understand a single thing that happened. Not gonna ask anyone here to explain it to me, I'll probably just look it up online or something.

But yeah, brilliant acting and score, but the editing and cinematography (except during the dancing sequences) was kinda terrible if you ask me. Idk, maybe I need to watch more 70s films to learn to appreciate it. But the exact same thing happened with Mandy. Could not stand that movie. This was mostly enjoyable though.
---