E

3

2018

: Official Hype Thread
Edit: updated full schedule
What to expect this year from The Big Three?
The Microsoft Xbox E3 2018 press conference is on June 10, two days before E3 kicks off properly. Expect a mixture of Microsoft Studio titles along with demos of third-party games to make up the show. You can find out when the Microsoft Xbox E3 2018 press conference begins in your area by consulting the list below:

June 10 - 1 pm PT

June 10 - 4 pm ET

June 10 - 9 pm BST

Microsoft has tried to make its E3 conferences more about the games and less about the data surrounding them, so expect its E3 2018 conference to be lean.

Source:

https://www.usgamer.net/
Games Likely to be Shown at the Microsoft Xbox E3 2018 Conference
Crackdown 3
Forza Horizon 4
Sea of Thieves
Ori and the Will of the Wisps
Halo 6 tease from 343 is possible
Something Fable (?)
***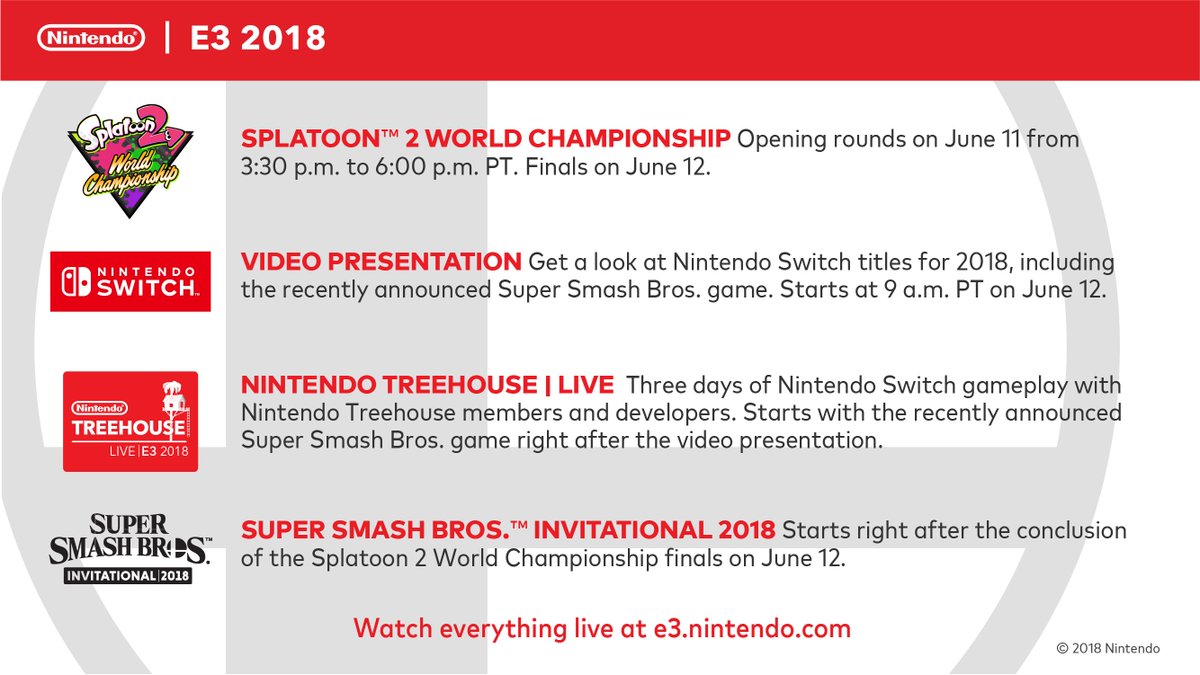 Games Likely to be Shown at the Nintendo E3 2018 Presentation
Splatoon 2 DLC
Super Mario Odyssey DLC (?)
Super Smash Bros sequel
Fire Emblem Switch
Pokemon and/or Animal Crossing Switch (?)
Metroid Prime 4 trailer (?)
Bayonetta 3 trailer (?)
Official Nintendo E3 site is now Live:
https://e3.nintendo.com/
***
Games Likely to be Shown at the Sony E3 2018 Presentation
Death Stranding
Ghosts of Tsushima
Spider-Man
The Last of Us Part II Highlight on indies
3rd party publishers


No hardware announcements at E3 2018

Source:

Shawn Layden
***
E3 2018 Timetable:
E3 2018 Press Conference Schedule
Saturday, June 9
Electronic Arts -- 11 AM PT / 2 PM ET
Sunday, June 10
Microsoft -- 1 PM PT / 4 PM ET
Bethesda -- 6:30 PM PT / 9:30 PM ET
Monday, June 11
Square Enix -- 10 AM PT / 1 PM ET
Ubisoft -- 1 PM PT / 4 PM ET
Sony -- 6 PM PT / 9 PM ET
Tuesday, June 12
Nintendo -- 9 AM PT / 12 PM ET

Source: gamespot.com
Other notable publishers and their (separate) conferences:
Source: resetera.com
*Reminder:
CDPR's Cyberpunk 2077
WILL appear in some form, probably codename
Shadows Die Twice
from
From Software
as well.
DMCV
is heavily rumored for quite some time.
Resident Evil 2 Remake
may finally re-appear.
Easy Allies
coverage:
https://www.youtube.com/channel/UCZrxXp ... 53rZsB3jaA
Let the hype begin!
Last edited by
m4st4
on May 28th, 2018, 1:52 pm, edited 1 time in total.