HERE IT IS - the ultimate thread for one of the best gaming experiences of this generation!
Share your stories, drop your hints, help other players or just sit back and enjoy the sound... of the Clickers!
Developer: Naughty Dogs
Publisher: Sony Computer Entertainment
Genre: Survival Action
Platform: PS3
Release: 14th June
Online Play: 2 - 8 Players
DLC - Yes ( 2 MP and 1 SP)
Plot
:
The Last of Us
begins in a Boston quarantine zone, twenty years after the outbreak, where 14-year-old orphan Ellie lives in a boarding house. Joel, in his forties at the time, is recruited to sneak her out to a radical militia group known as the Fireflies. Evidently, things take a turn for the worse, and the military apparently finds out about their escape and begins pursuit. While Joel normally would have left Ellie and fled for his life, he had promised a dying friend to take care of her, and after a nearby safe haven fails to work out, they begin a trek westward across the United States to escape the law enforcement and relocate Ellie, with a faint hope against all odds to stay alive along the way.
Throughout the course of their journey, the duo will come to meet an array of hostiles, ranging from infected enemies to other enemy survivors, as well as potential allies and the remaining remnants of American civilization.
Characters
:
Joel
is the main protagonist in The Last of Us. A man in his late 40s, hardened by the atrocities and devastation left by the fungal infection, Joel works as a black market dealer within the quarantine zone, selling drugs and weapons of sorts.
Ellie
is a 14-year-old female, who co-stars alongside Joel in this post-apocalyptic romp through the United States.
Having been born after the fungal infection had already collapsed modern civilization as we know it, Ellie doesn't know a life aside from the high walls of the quarantine zone. She was raised in perpetual fear. This, of course, sparks within her an obsession with relics from the past culture, such as books and music. This, too, leads to troublesome times at the boarding house she resides in.
Something happens in her home that forces her to skip town with Joel. Together they trek west while hiding from the military and surviving other threats.
Story trailer
:
Gameplay
:
Multiplayer
:
Clan
:
There is a robust clan system where you can recruit survivors into your clan. You can then send them out on missions for supplies, to rescue other survivors, and train to repel or attack Infecteds or Marauders. Clan members can die from attacks, starvation, or sickness. They can also become infected. Members will join your clan depending on the matches you win, the supplies you have and attacks you repel.
Classes
:
Assault
Sniper
Support
Stealth
Custom
Gameplay Modes
:
->
Supply Raid
Executions are possible. Each map is designed especially for stealth. Supply stashes are out in the open and dangerous to approach without teammates, however it contains supplies vital for your team's success and the overall health of your clan. All while being met by an enemy team, fighting for the very same supplies. Each team gets twenty collective lives and whichever team runs out of lives first loses.
->
Survivors
Survival is the key and teamwork is an optional factor. You must eliminate everyone else until you are left standing at the end of the match. It is a best of seven rounds format and supplies go to the team that wins four of seven rounds by having the last man or woman standing. There's no respawning, but you can buy weapons and ammo
Music of TLOU
:
When pre-production started in earnest on The Last of Us there was a folder of music files featuring work by some of the preeminent musicians in video games, television, and film. These tracks held a sampling of the ideal musical quality, direction, and tone we wanted to have for the project. The Academy Award winning work of Gustavo Santaolalla appeared multiple times. Being that he had never composed for video games before the thought of getting him to work on The Last of Us seemed a bit farfetched. He was approached by our music group at Sony and, well, this video will tell you the full story about the man himself and how he came to work on The Last of Us

We are honored to have Gustavo's music and talents in our game. The texture of Gustavo's musical score serves the game's narrative and the music is rife with poignant, descriptive and intimate sounds. His work is unlike anything heard in a video game before. It's a beautiful, haunting, sonic landscape that makes the game's themes more emotionally resonant and emphasizes thoughtfully how Joel, Ellie, and all the characters in the game perceive the world around them. It's a masterful musical score.
Check out the featurette on music here
:
***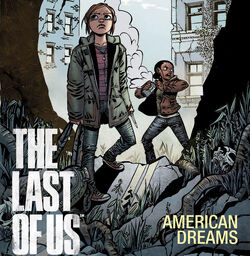 The Last of Us: American Dreams
is a four-issue miniseries published by Dark Horse Comics. Written by
The Last of Us
lead writer, Neil Druckmann and lead artist, Faith Erin Hicks, American Dreams chronicles the journey of Ellie and a survivor named Riley prior to events that take place in the game. American Dreams is published monthly by Dark Horse, with a time frame starting from April to July 2013 and is slated for a trade paperback release October 30, 2013.
American Dreams
series includes:
American Dreams #1
American Dreams #2
American Dreams #3
American Dreams #4
"Nineteen years ago, a parasitic fungal outbreak killed the majority of the world's population, forcing survivors into a handful of quarantine zones. Thirteen-year-old Ellie has grown up in this violent, post-pandemic world, and her disrespect for the military authority running her boarding school earns her new enemies, a new friend in fellow rebel Riley, and her first trip into the outside world. The official lead-in to the game from Faith Erin Hicks (The Adventures of Superhero Girl) and Naughty Dog's Neil Druckmann!"
―Dark Horse.com description
***
Last edited by
m4st4
on December 3rd, 2016, 3:21 pm, edited 2 times in total.