---
People's 2017 Yearbook edition includes a piece about Harry's solo music and Dunkirk performance:
---
Joined: February 2010
Location: Texas
Contact:
He was one of the Jonas Brothers, right?
---
---
BBC1 Radio 5: Richard Sanderson @dickiesanderson (British Actor based in Los Angeles)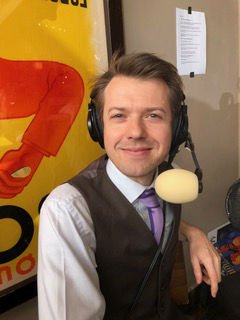 "I was rowing him away from a sinking ship and it was dark, there was a lot of things happening, explosions...and then all of a sudden I felt a thud and @Harry_Styles disappeared!". @dickiesanderson told @ColinGPaterson it was 'oar-some' filming #oscar nominated #Dunkirk
Audio:
https://twitter.com/bbc5live/status/970656528767340544
---
FSR:
9 Great Performances by First-Time Actors
https://filmschoolrejects.com/9-great-p ... me-actors/
Harry Styles in Dunkirk (2017)

People had a LOT of opinions when Christopher Nolan cast ex-boy band member Harry Styles in his war film. Hot takes ranged from those insisting he'd ruin the film to other's declaring Nolan had found his next Heath Ledger.

Styles appeared in the film as Alex, a British soldier, in his acting debut, among an all-star cast that included Tom Hardy, Mark Rylance, Kenneth Branagh, and Cillian Murphy. In short, Styles' performance in Dunkirk was great. He made us forget that he's a pop star and he seamlessly blended into the mass of British soldiers desperately trying to get out of France alive. Sometimes, that kind of subtlety is just what you want from such a big name who can risk breaking the spell of a film when they appear on-screen. Styles hasn't appeared in any other films since Dunkirk, but hopefully, he'll continue to pursue acting.
---
EW.com:
17 singers who slayed on the big screen
Lady Gaga, Christina Aguilera, Harry Styles, Rihanna, Kesha, Kylie Minogue, and more have hit high notes in Hollywood
http://ew.com/movies/15-singers-movies
Harry Styles (Dunkirk)

One Direction heartthrob Harry Styles literally explodes onto the Hollywood scene in Christopher Nolan's WWII-set drama Dunkirk, in which he plays an Allied soldier under fire as forces attempt to retreat from an enemy offensive. "I was new to Harry. I mean, I've heard his name from my kids, but I wasn't really familiar with him," Nolan told Entertainment Tonight of casting Styles, likening his instinctual casting to that of Heath Ledger as The Joker in his 2008 film The Dark Knight. "What I was seeing [when he auditioned] was a very charismatic guy who clearly had a truthfulness and a subtlety in his ability to perform as a film actor."
---
---
New image from HBO Latin America
---
A little Dunkirk behind-the-scene story posted in a comment on a concert review.
By Zachary Wrobel, a sound utility worker on Dunkirk:
I worked with Harry, as an actor, on Dunkirk, in LA (I do sound). He could not have been more gracious and helpful. It's not fun having a microphone taped to your body, but in this process he was very accommodating.

But there's more than that, and there's a story about him that I tell people when they ask about Dunkirk. After work one night, my wife and I had to take my son to the ER, and he was admitted to the hospital. So I had to miss the next day of work (everything worked out and he's fine). When I returned to work the day after that, and Harry arrived on set and he saw me, he bee lined straight to me, by-passing several others, and wanted to know immediately how my son was doing. I was blown away.

It's a testament to who he is: a human before a star. Even though when it comes to the latter, he IS gigantic.

(When we finished I asked him what was next (knowing he had just signed a massive recording contract). He was off to Jamaica immediately to write the album.)

Zachary Wrobel
---