Joined: January 2012
---
Joined: January 2015
Location: Poland
Contact:
https://www.ladbible.com/entertainment/ ... e-20191227
Batman movie The Dark Knight Rises has been crowned the best film of the last decade after topping a huge LADbible poll.
Might be meaningless, as any such list, but it's still pretty cool so many people have voted for it.
Inception was number 3, and Interstellar number 2 in semi-finals.
---
Had Tarantino said what his #1 film is anywhere?
---
Joined: June 2012
radewart

wrote:

↑

January 6th, 2020, 11:32 pm

Had Tarantino said what his #1 film is anywhere?
Not yet.
---
Joined: July 2009
Location: Norway
Contact: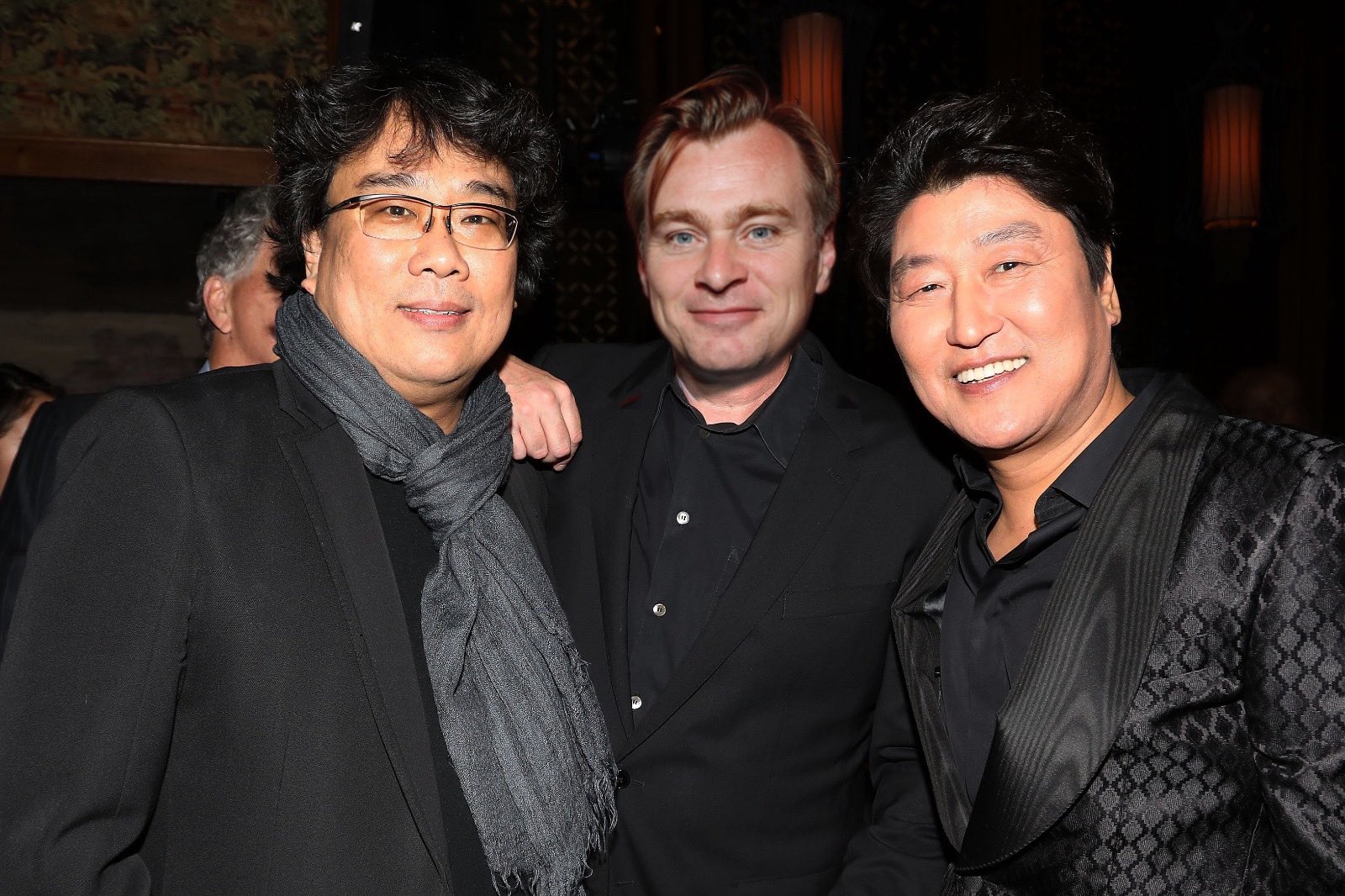 Found this on twitter. Fake?
---
---
Joined: July 2009
Location: Norway
Contact:
That would be Song Kang-ho, but I think the image is photoshopped (Nolan's head)
---
Original photo
---
In a perfect Venn diagram of my interests, I learned Pantoliano modeled his Sopranos wig after Christopher Nolan's hair. He also lobbied Nolan to play Gordon in Batman Begins after turning down a smaller role in the movie

https://twitter.com/aaroncouch/status/1 ... 54848?s=21
Pantoliano met Memento director Christopher Nolan for the first time at a coffee shop on Beverly Blvd. Then in his late 20s, Nolan was an unknown filmmaker whose only credit was Following, a low budget labor of love he shot on the weekends with his friends around London and which had made a splash on the festival circuit a few years earlier.

Nolan was polite and intelligent. But Pantoliano sensed the filmmaker didn't want him for Teddy, a cheerfully shady man who manipulates Guy Pearce's Leonard Shelby, a former insurance investigator who can no longer make new memories.

"I called my agent. I said, 'I'm positive I'm not this guy's first choice, so just FYI, we won't get the offer,' " Pantoliano recalls.

According to Memento lore, Denis Leary was the first choice to play Teddy, but didn't take the part. A few weeks later, Pantoliano was offered the role.

So began one of the more rewarding artistic periods of the actor's life. During the weekends, the Memento brain trust would assemble at Pantoliano's home in Santa Monica to rehearse what they'd shoot the next week. That meant hours spent in the garage with Nolan, Pearce and Emma Thomas, now Nolan's producing partner and wife. They'd work to make the dialogue more American sounding, as Pantoliano was the only American-born of the four.

When it came to shooting, Nolan would coach Pantoliano through Teddy's headspace from scene to scene.

"Am I telling the truth? Am I lying? What is happening in this moment?" recalls Pantolinao. "Once he gave me my marching orders, I played from there."

Memento announced to the world that Nolan was a filmmaker to watch. Within a few years, Warner Bros. had hired him to reboot Batman with 2005's Batman Begins, and the rising filmmaker offered Pantoliano the role of corrupt police officer (ultimately played by Memento's Mark Boone Junior). Pantoliano rejected it. He wanted the meatier part of Jim Gordon, and he pressed Nolan to give him the role.

In past interviews Pantoliano has noted he was unaware Gary Oldman was Nolan's top choice, and said he was hurt that the director offered him a relatively small role after being one of the leads in Memento.

"I said, 'I want to be a movie star, too. There's a better role. You haven't cast it. Give me that one,'" recalls Pantoliano. "But he had somebody else in mind and so they got it, not me. Director's tell me no all the time. It's very rare I'm telling anybody no."
https://www.hollywoodreporter.com/amp/h ... sion=true
---
Joined: November 2019
I love Joey Pants, and really hope Nolan and him work together. But, I do wonder if the reason he didn't get the Gordan role is because he played Ben Urich in the Daredevil movie, and those characters are very similar. Like, when Frank Miller wrote those characters, they become alternate versions of the same.
Last edited by
Nomis
on January 16th, 2020, 6:31 pm, edited 1 time in total.
Reason:
there is literally no need to quote such a long post, either don't or use spoiler tags!
---