We live in the Twilight Zone
---
Joined: February 2010
Location: Texas
Contact:
Trump is trying really hard to minimize the impact of this on his reelection, that's literally all he cares about.
---
Joined: May 2010
Location: Mumbai
Skip to 11:40 for some infuriating shit
its gonna be really difficult for me to watch hollywood movies where murica ends up saving the world
---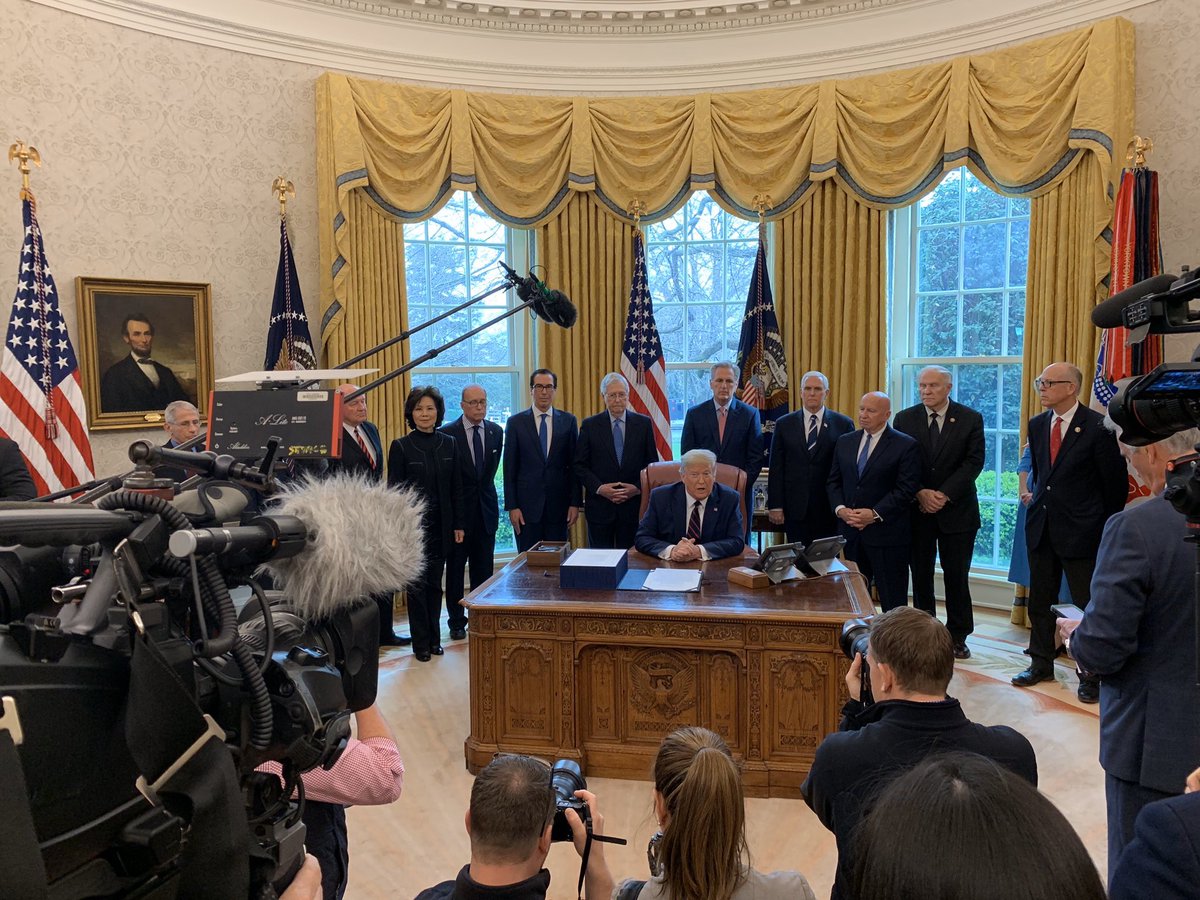 'Social/Physical distancing? What's that?'
---
LA Times - Trump administration ended pandemic early-warning program to detect coronaviruses
The Boy Blunder speaks.
And since when is the federal government not supposed to serve the United States like it's some special entity or separate country that Blunder Boy thinks belongs exclusively to his father in law.
NY Times - Kushner Puts Himself in Middle of White House's Chaotic Coronavirus Response
NY Times - Opinion | Jared Kushner Is Going to Get Us All Killed
Microsoft News and Microsoft Research - Governors average 27 percentage points higher in approval for COVID-19 response than President Trump
As COVID-19 cases continue to increase across the United States, state governors must assess the situation and make decisions on stay-at-home orders, business closures and rally services to respond to health care needs.

Americans' views on how their state governors are handling the coronavirus crisis vary widely, but on average governors are receiving significantly higher ratings than President Trump for his response, according to Microsoft News sentiment polling.

Microsoft News asked Americans this week how they felt about the way their governors, as well as President Trump, responded to the crisis.

Governors received favorable ratings of 72% on average, compared to 45% for President Trump.
Low Approvals for Governors

On the low end of governor approval ratings, Florida governor Ron DeSantis receives 53 percent favorable ratings, compared to President Trump at 45 percent.

Missouri and Arizona governors also rank low at 53 and 52 percentage points respectively. As of 4/1, Arizona reports approximately 1,400 cases of COVID-19 according to the

COVID-19 tracker map from Bing

.

In Louisiana, a current hotspot for coronavirus cases, Gov. John Bel Edwards received 67 percent approval, compared to 50 percent for Trump.
Methodology

Microsoft News and Microsoft Research have partnered to conduct quick reaction and tracking polls to learn more about the sentiment around 2020 election. The Microsoft News Poll uses online opt-in polls, collected from a random sample of American adults, to produce statistically valid results. In these surveys, we collected responses from at least 3,000 people per wave from March 21 to April 1 using tools from polling firm CivicScience. We then analyzed the results to model how demographic groups answered each question, based on age, gender, race, education, location, and party identification. Answers were projected onto the estimated distribution of those demographic groups. The method is as accurate as traditional polling methods, and in this survey produced a margin of error of +- 2 percentage points.
---
CNN - Trump fires intelligence community watchdog who told Congress about whistleblower complaint that led to impeachment
The Washington Post - The U.S. was beset by denial and dysfunction as the coronavirus raged

By the time Donald Trump proclaimed himself a wartime president — and the coronavirus the enemy — the United States was already on course to see more of its people die than in the wars of Korea, Vietnam, Afghanistan and Iraq combined.

The country has adopted an array of wartime measures never employed collectively in U.S. history — banning incoming travelers from two continents, bringing commerce to a near-halt, enlisting industry to make emergency medical gear, and confining 230 million Americans to their homes in a desperate bid to survive an attack by an unseen adversary.

Despite these and other extreme steps, the United States will likely go down as the country that was supposedly best prepared to fight a pandemic but ended up catastrophically overmatched by the novel coronavirus, sustaining heavier casualties than any other nation.
It did not have to happen this way. Though not perfectly prepared, the United States had more expertise, resources, plans and epidemiological experience than dozens of countries that ultimately fared far better in fending off the virus.

The failure has echoes of the period leading up to 9/11: Warnings were sounded, including at the highest levels of government, but the president was deaf to them until the enemy had already struck.

The Trump administration received its first formal notification of the outbreak of the coronavirus in China on Jan. 3. Within days, U.S. spy agencies were signaling the seriousness of the threat to Trump by including a warning about the coronavirus — the first of many — in the President's Daily Brief.

And yet, it took 70 days from that initial notification for Trump to treat the coronavirus not as a distant threat or harmless flu strain well under control, but as a lethal force that had outflanked America's defenses and was poised to kill tens of thousands of citizens. That more-than-two-month stretch now stands as critical time that was squandered.
The United States under Trump: a failed state where Russia gets the last laugh.
Associated Press - Trump suggests firing watchdog was payback for impeachment
---
---
---
Joined: May 2010
Location: Jackson County
So, four more years of this shithead?!?
---
Joined: June 2012
Location: a twilight world
Probably...

Now I hope Warren gets on the ticket btw
---