The Stand
is a post-apocalyptic horror/fantasy novel by American author Stephen King. It demonstrates the scenario in his earlier short story,
Night Surf
. The novel was originally published in 1978 and was later re-released in 1990 as
The Stand: The Complete & Uncut Edition
- King restored some text originally cut for brevity, added and revised sections, changed the setting of the story from 1980 (which in turn was changed to 1985 for the original paperback release in 1980) to 1990, and updated a few pop culture references accordingly.
The Stand
was nominated for the World Fantasy Award for Best Novel in 1979, and was adapted into both a television miniseries for ABC and a graphic novel published by Marvel Comics.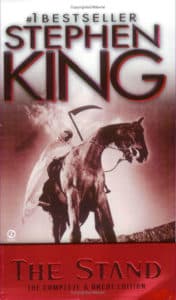 Warner Bros. is currently finalizing deals for director David Yates and screenwriter Steve Kloves to reunite for a multi-film adaptation of Stephen King's novel
The Stand
. Since the book was beefy enough to fill a six hour ABC miniseries back in the 90s, then there's plenty of material for two, maybe even three movies to come from the 1978 apocalyptic sci-fi story.
Here's the official synopsis of Stephen King's
The Stand
for those who haven't read the book:
This is the way the world ends: with a nanosecond of computer error in a Defense Department laboratory and a million casual contacts that form the links in a chain letter of death. And here is the bleak new world of the day after: a world stripped of its institutions and emptied of 99 percent of its people. A world in which a handful of panicky survivors choose sides — or are chosen. A world in which good rides on the frail shoulders of the 108-year-old Mother Abigail — and the worst nightmares of evil are embodied in a man with a lethal smile and unspeakable powers: Randall Flagg, the dark man.