Joined: May 2014
Location: [insert non-spoilery location here, that wasn't a spoiler to begin with]
Besides
, this was fucking amazing. 10/10 episode
---
Joined: June 2010
Location: The White City
Contact:
I thought the finale was...just okay. Lots and lots of "cool" moments, but often (to me) felt contrived for cheap suspense and awe. Every major threat is impotent. The episode constantly does this thing where it presents a terrifying and seemingly overpowering threat, and then passively discards it. The stakes weren't there for me, I'm sorry to say.
My heart sank when I realized this would be the third or fourth "shooting through hallways" corridor episode of a very short season, robbing epic showdowns and firefights of the gravitas they might've had. This show is best when it's on an epic canvas.
That said, I'm *delighted* so many of you loved it. I'm enjoying the contact high.
-Vader
---
Joined: October 2011
Location: Foot of Mt. Belzoni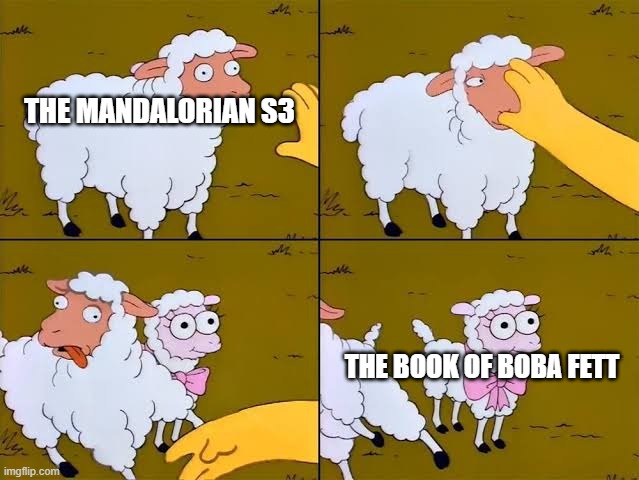 ---
Vader, your comment is on point. The more I think about it, the less I like it.
---
Joined: June 2011
Location: The Ashes of Gotham
Contact:
---
Joined: July 2012
Location: Korova Milk Bar
So, this is what fans who were disappointed in the Sequel Trilogy (TRoS excluded) must have felt watching those movies, huh? Well, unlike them, I'm glad there are many who are enjoying this, but I think after two seasons it's safe to admit it's just not for me. Feels almost exactly like what many expected (feared?) from a corporate, Disney-fied Star Wars franchise. Safe, referential, "Marvelized," and, worst of all for me: low stakes. I mean, the moments people buzz about on Twitter after episodes "air" are mostly cameos rather than discussions about the characters and their journeys, and that's just not my thing when I'm watching long-form storytelling, like television.
I will say though, there have been plenty of episodes here where I've thoroughly enjoyed the spectacle and fun of it all, but they're always — eventually — funneled back toward a story point or beat that lets the air out of my excitement.
The
moment everyone's buzzing about from this finale is that point/beat again for me, in which it really feels like the point everything in this narrative engine is driving toward is another
or reference.
Only silver lining is that I think this ending
Okay, that's my two cents! I genuinely hope people continue to enjoy this, and it seems like the vast majority do (and will). Just had to get some of those feelings of disconnection with the show off my chest to see if there are others who feel the same.
---
Are we already in the bad takes territory?

You know, the one about this being 'what fans TRULY wanted' from Star Wars? As a shot fired to
.. God knows which aspect of Star Wars nowadays... Prequels, sequels, specific parts of sequel trilogy... Ugh.

I feel like this was, mostly, what Star Wars is supposed to be. I just wish finale didn't leave such a bad taste in my mouth.
---
Joined: February 2011
The entire thing reeks of corporate thinking.

Not even many of the supporting characters have nothing to contribute to the central plot but they also have no meaningful character development of their own nor do they affect the character development of the main characters. They are just there to be awesome and badass to set up their own cash cow series for Disney in the future. You can easily erase them from this show and nothing impactful happens.
---
Joined: May 2010
I liked it.
---
Joined: June 2010
Location: The White City
Contact:
I'm hoping I connect more to the finale on a rewatch, but even if I don't Season 2 remains some of the best Star Wars ever and I'm extremely excited for what comes next. Episodes 1, 5 and 6 were all amazing, and a lot of the other episodes were merely extremely good. That's frankly more consistency than Star Wars has ever had.


-Vader
---