NoMoreDeadCops wrote:
Not to mention: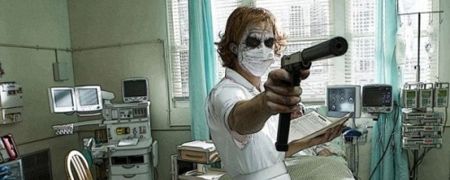 It seems to be playing into the theme of 'everyone wears masks'.
Bruce: Metaphorically and literally, as Batman/Bruce Wayne, where his metaphorical mask is a disguise and his physical one is his true nature.
Selina Kyle: From what I can tell, purely literal, as in the physical domino mask.
Bane: Obviously literal, yet also metaphorical, as "nobody cared who I was until I put on the mask" means he represents his masked face as his true face.
Ra's: As Ducard, and also in the physical sense as listed above.
Gordon: Literal, when he had hidden from public view.
Harvey: Sort of an inverse of this: His true face is his true face for most of the film, but towards the end, his burnt half reveals his true self, having become a corrupted and warped version of what he once was. Not so much that he is evil, but enough so that he is on the side of chaos: Not quite good, not quite evil, but on his own side.
Joker: Literal, as in the picture above, but also very metaphorical: his makeup is his real face. When he takes it off to be the policeman, he's disguising himself, so his physical face is not in actuality what he considers his real one.