---
---
Joined: January 2015
Location: Poland
Contact:
The new Robert Pattinson movie High Life also had a very realistic depiction of a Black Hole...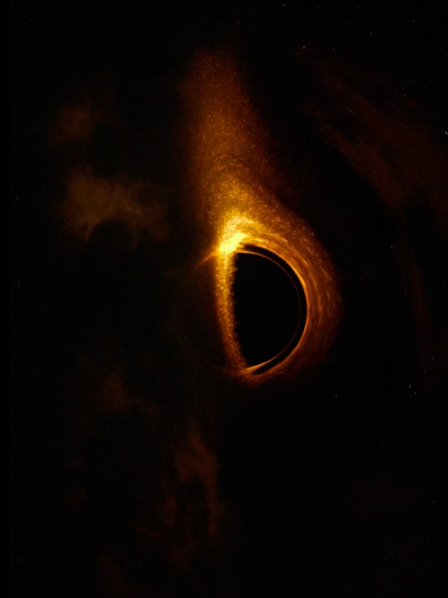 However, I do have questions regarding the real picture. The color of the halo is orange while the accretion disk is mostly made of white-hot plazma (much like our sun). Is it because the telescopes that gathered the image were placed on Earth and it's an atmospheric color shift or is there something else at play here?
---
In the image, the dark circle represents the "shadow" of the black hole and its boundary, created by the glowing material that surrounds it. However, the colors of the bright ring in the image aren't the actual hues of the gas; rather, they represent a color map chosen by EHT researchers to depict the brightness of the emissions, Fox explained.

"The yellow is the most intense emission, the red is less intense, and then black is little or no emission at all," Fox said. In the optical range, the ring around the black hole would likely appear white, perhaps tinged with blue or red, according to Fox.

"I'd expect it to be more of a whitish glow that is brighter along the crescent, dimmer at the other points, and then black where the black hole is casting its shadow," he said.
https://www.livescience.com/65199-why-b ... range.html
---
Joined: January 2015
Location: Poland
Contact:
That explains it. Thanks.
---
---
---
---
---
---